A special thanks to OlivierQC for giving me the permission to publish his content.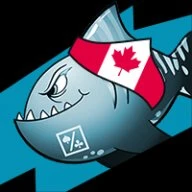 "A new thread to give my opinion on the new Zidoo , it will certainly be one of the best-selling models and we can already say that Zidoo keeps its lead and provides an excellent base and that it is going to be improve overtime.

This thread is also for those who do not know Zidoo devices and want to know more, I try to gather as much information as possible on these multimedia boxes which are recognized as excellent in addition to being the most innovative since a few years now."

OlivierQC, Sep 7, 2020
"A message to say what I think about the Zidoo and Zidoo devices in general, I have several Zidoo at home and from all generations since 4 years. Zidoo products perform very well in video quality and in a few years they have become one of the best brand among Android devices.

The main characteristic of Zidoo products is to focus on local video playback, and they do it very well. This product is an upgrade from the previous generation which provides support for HDR10 + and Dolby Vision in MP4 format and support for Dolby Vision in MKV format in the future.

They are avant-garde with their new features (VS10 Engine) with this generation and ensure its sustainability over time for those who buy this multimedia box. With this new generation, Zidoo offer Android applications like Netflix or Youtube in 4k, yes all is not perfect but this is only the beginning and we can count on the Zidoo team to improve them.

The video quality is no longer to be demonstrated for Zidoo devices, they have already proven it with the venerable Zidoo X8/X9S which in a short time overshadowed competing brands in its time and Zidoo continued to improve it with the last generation (Serie Z) and now with the RTD1619DR devices.

Everything is not perfect, is a new device and necessarily there are problems, that are regularly reported by the community and which will be fixed by Zidoo in the coming months. The success of Zidoo company has created a large community around their devices and I think I'm being honest in saying: buying a Zidoo is also the guarantee of easily finding advice and help on the internet.

I see a lot of people who change their Dune or Zapitti boxes for this new Zidoo device and write glowing comments, we can say that it is concrete and Zidoo signs a future success.

The Zidoo has the know-how of the 2 previous generations to which we add the new features of the RTD1619DR at an unrivaled price for devices with a Realtek RTD.

Personally and for my daily use, the does what it was designed to do correctly. If you would like to enjoy your movie collection on your local video playback, you can't go wrong by purchasing a Zidoo devices, this my opinion.​"

OlivierQC, Sep 17, 2020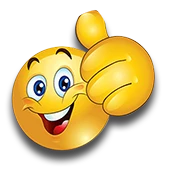 ---


---

Website
https://www.zidoo.tv/

Facebook/Groups
https://www.facebook.com/groups/zidooworld/
---

Click on
Specification​
---
The IR backlit remote control is complete, it has shortcuts and copy keys for other commands and we also have an app to assign functions to the colored keys, this is a model that was available with the Zidoo X10 and the Z series.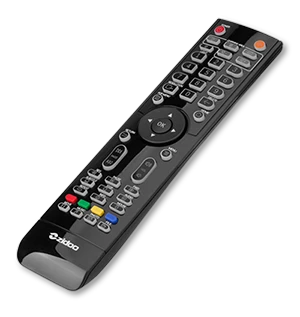 ---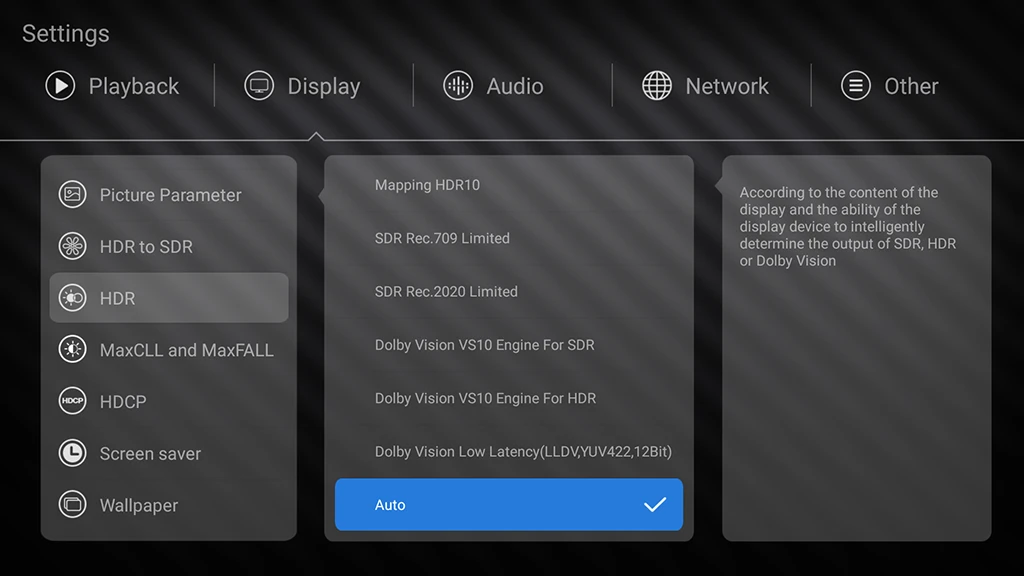 The VS10 engine is the most anticipated feature of the upcoming Zidoo RTD1619DR devices. Since acquiring a full Dolby Vision disc license is impossible for a media player, this way is the best alternative.
Thanks to Markswift2003 for the explanations about the VS10 Engine
"The VS10 engine is a Dolby SDK (software development kit) that converts between SDR, HDR10, HDR10+ and Dolby Vision depending what the display will accept.

The idea is that it will take any input and convert it to the best format that a display will accept.

So, if the display is only SDR then all content is converted to SDR, if it's HDR10, all is converted to HDR10 etc.

Dolby keep their intellectual property very secret, so we don't know the mechanics of what exactly it does, we only see the results which to be honest are pretty good.

The conversion to LLDV or DV is the best at the moment because with SDR and HDR conversion there is a lift in overall picture level which means that the image looks a bit "light" and "washed out". Hopefully this is being sorted out by the Zidoo devs.

The mapping I refer to is simply the conversion between colour spaces – so converting BT.709 to BT.2020 for example – you map the colour values from one colour space to another.

In most circumstances, leaving HDR set to Auto is the best setting since then SDR is output as SDR, HDR as HDR and DV as DV (depending on what type of DV) but being able to set for example a full time LLDV output is very useful for projector owners (although it requires the use of an HDFury device to fool the Zidoo into thinking that the display is actually BT.2020 LLDV)."

Markswift2003
"I haven't finished making comparisons but for now I prefer the AUTO mode which will make the right choice depending on video format I'm watching.

This is a matter of personal taste, try out the different modes depending to your equipment and choose the one that feels best for you.

Zidoo gives it to us so you might as well enjoy it."

For your information:
With AUTO mode I never had a problem while playing a movie, everything always works

OlivierQC
---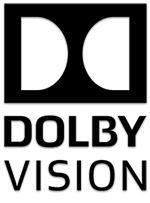 Zidoo Team are developing Dolby Vision support on OMX decode (about stream Dolby Vision), and the new MKV container standard (about profile 4, 5, 8, 9 Dolby Vision on MKVs), which you will see in the near future.
As Zidoo says… it is just the beginning, so be patient and stay tuned.
---
What does

offer for an ordinary user like me or for a new users and who wants the guarantee of being able to enjoy their video library with their new Zidoo box.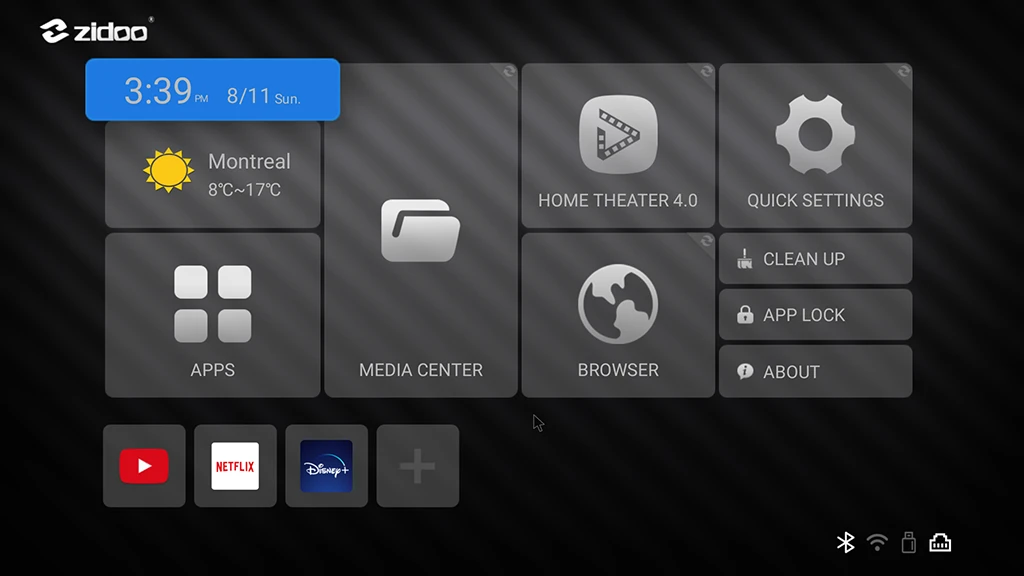 ---

Multichannel sound and Dolby Vision are not yet supported
---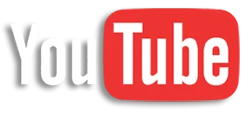 For Youtube, the 4k videos are not smooth if I compare the same videos with the application available on my TV.
---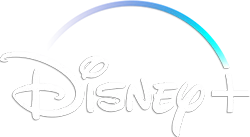 Disney+ works on the Zidoo but you need an airmouse and the image quality is not good, I do not recommend it
---

Amazon prime video works but as for Disney+ with a resolution of 1080p, but the quality does not allow viewing in good condition
---

The application works perfectly, but you will need to have an air mouse
---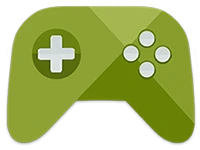 Gaming performance is better compared to previous generation RTD1295 / 96 because of the faster SoC, gaming becomes possible with these new zidoo devices.

The performances are similar to those of the SoC AMlogic S905X3 according to some websites which have tried it.

More RAM would be ideal for more demanding 3D titles like with the Z10 PRO for example.
---

Nothing to report for IMAX Enhanced video files. my Pioneer SC-LX704 switches to IMAX DTS X and my TV to HDR as for the previous generation
---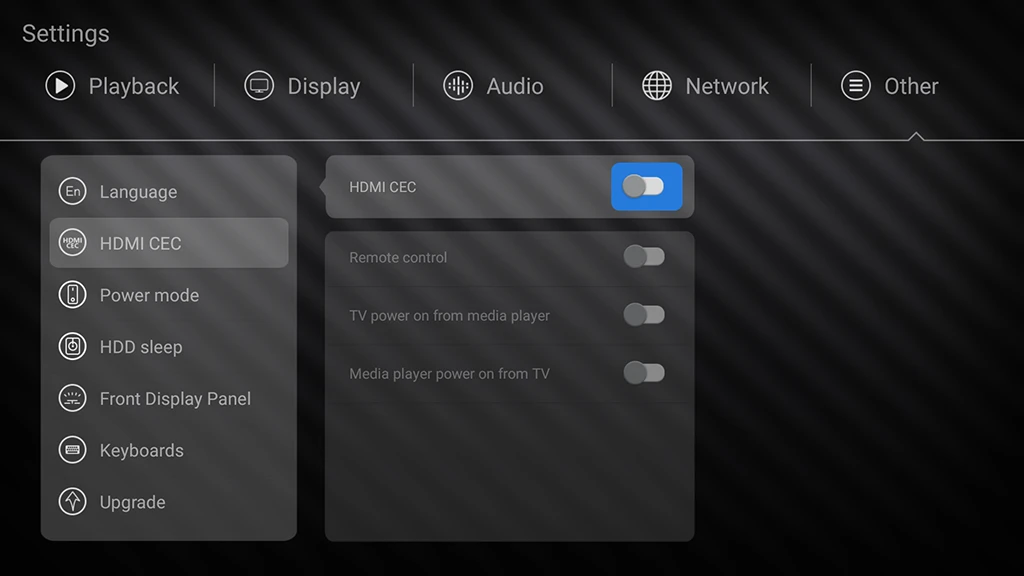 CEC function that cannot be disabled is resolved, I had this problem and it disappeared with this new FW.
---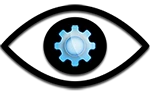 OlivierQC's settings
Here is my settings which will allow me to use my Zidoo without having any problems with my current movies collection.
---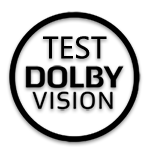 Here are some video files available on the MakeMKV website and on the Dolby developer website (Dolby-Vision-streams).

Dolby developer website

MakeMKV website
I watched them with my Sony 77A9G and the Zidoo

(FW 6.0.35)
The result with my settings by default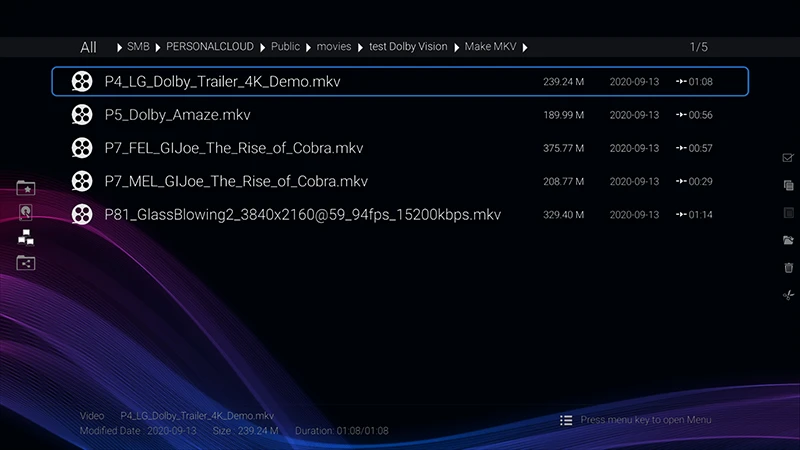 | | |
| --- | --- |
| P4_LG_Dolby_Trailer_4K_Demo | SDR/DD |
| P5_Dolby_Amaze | Dolby Vision/Atmos |
| P7_FEL_GIJoe_The_Rise_of_Cobra | HDR10/DTS-HD |
| P7_MEL_GIJoe_The_Rise_of_Cobra | Dolby Vision |
| P81_GlassBlowing2_3840x2160@59_94fps_15200kbps | Dolby Vision/Atmos |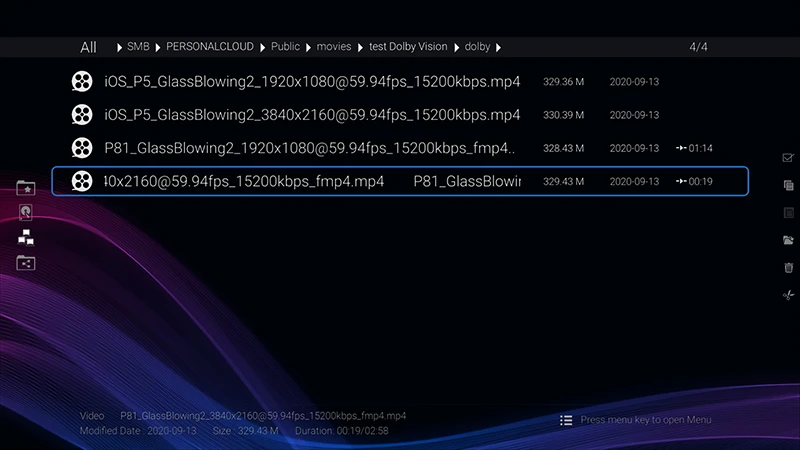 | | |
| --- | --- |
| iOS_P5_GlassBlowing2_1920x1080@59.94fps_15200kbps | Can't play video |
| iOS_P5_GlassBlowing2_3840x2160@59.94fps_15200kbps | Can't play video |
| P81_GlassBlowing2_1920x1080@59.94fps_15200kbps_fmp4 | HDR10/Atmos with stuttering |
| P81_GlassBlowing2_3840x2160@59.94fps_15200kbps_fmp4 | HDR10/Atmos with stuttering |
The result for by forcing DVLL mode instead Auto mode (VS10 Engine)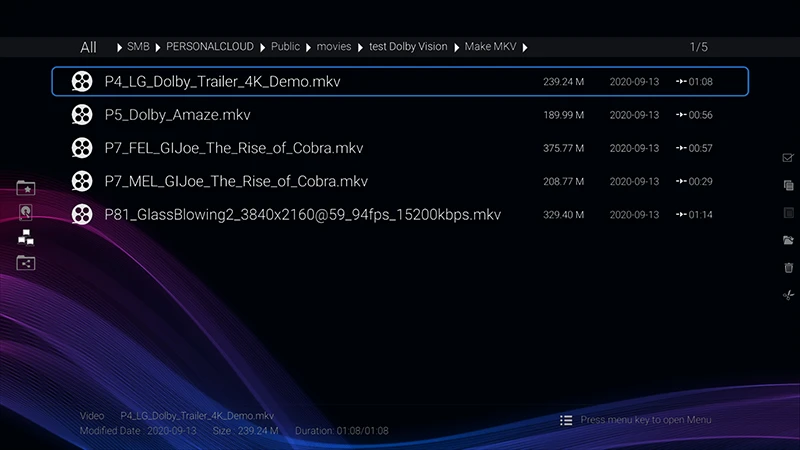 | | |
| --- | --- |
| P4_LG_Dolby_Trailer_4K_Demo | Dolby Vision/DD |
| P5_Dolby_Amaze | Dolby Vision/Atmos |
| P7_FEL_GIJoe_The_Rise_of_Cobra | Dolby Vision/DTS-HD |
| P7_MEL_GIJoe_The_Rise_of_Cobra | Dolby Vision |
| P81_GlassBlowing2_3840x2160@59_94fps_15200kbps | Dolby Vision/Atmos |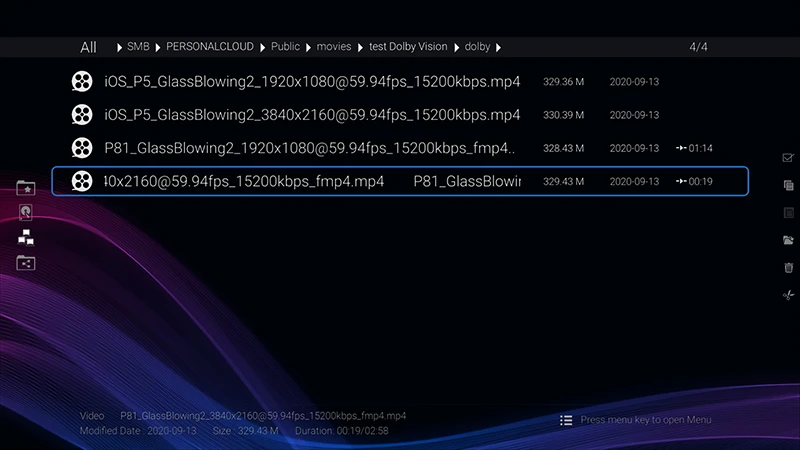 | | |
| --- | --- |
| iOS_P5_GlassBlowing2_1920x1080@59.94fps_15200kbps | Can't play video |
| iOS_P5_GlassBlowing2_3840x2160@59.94fps_15200kbps | Can't play video |
| P81_GlassBlowing2_1920x1080@59.94fps_15200kbps_fmp4 | Dolby Vision/Atmos with stuttering |
| P81_GlassBlowing2_3840x2160@59.94fps_15200kbps_fmp4 | Dolby Vision/Atmos with stuttering |
---

I watched 3 movies in MP4 Dolby Vision without any problems.

My Sony A9G switches to Dolby Vision when the movie starts.

I enjoyed the show and I also tried the Dolby Vision option available on my Sony TV
---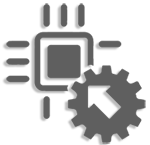 Firmware Zidoo

v6.0.60(_G)
Download the FW and copy the compressed file to a USB key, plug it into one of the device's USB ports

The compressed file FW is on my key, I go to the next step.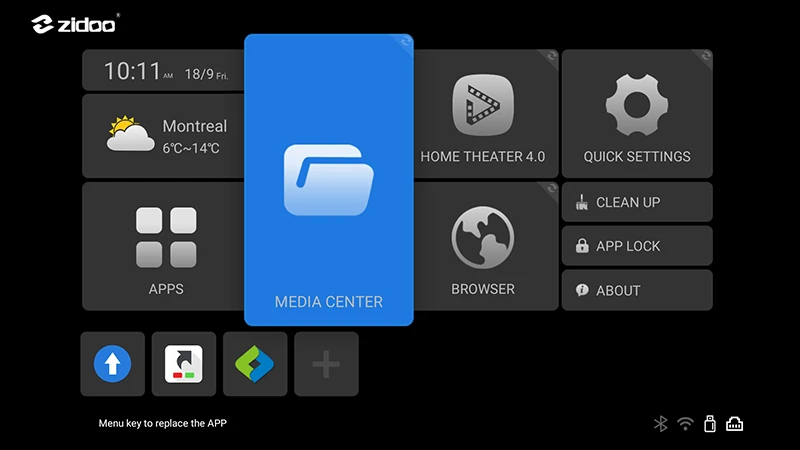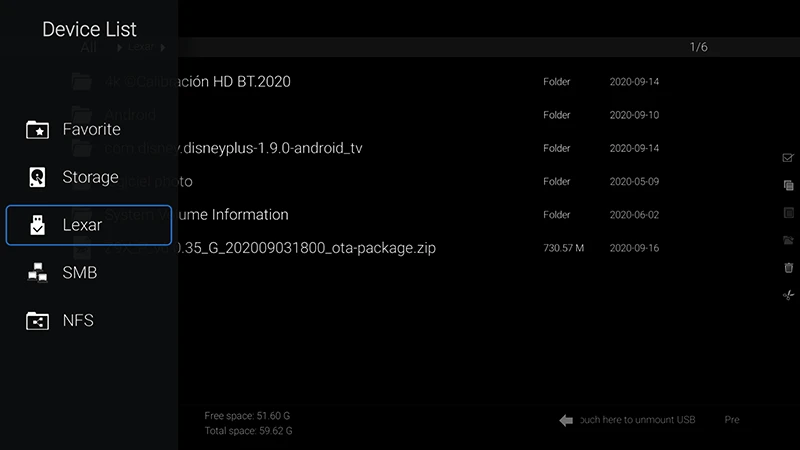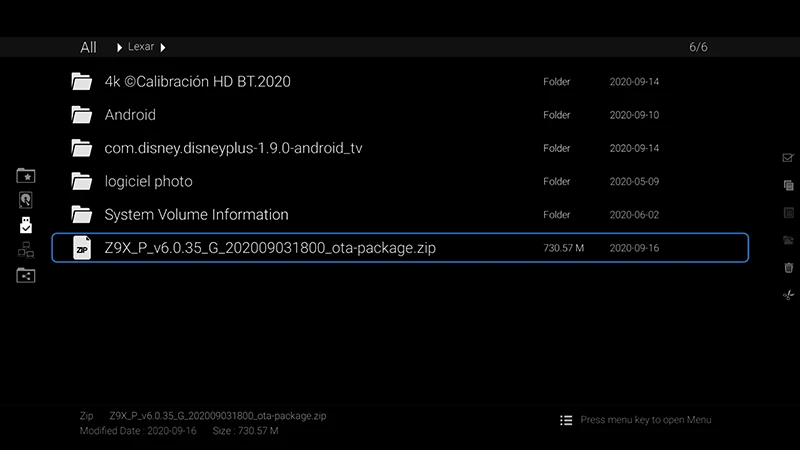 Open the "ABOUT" tile and click on "UPDATE"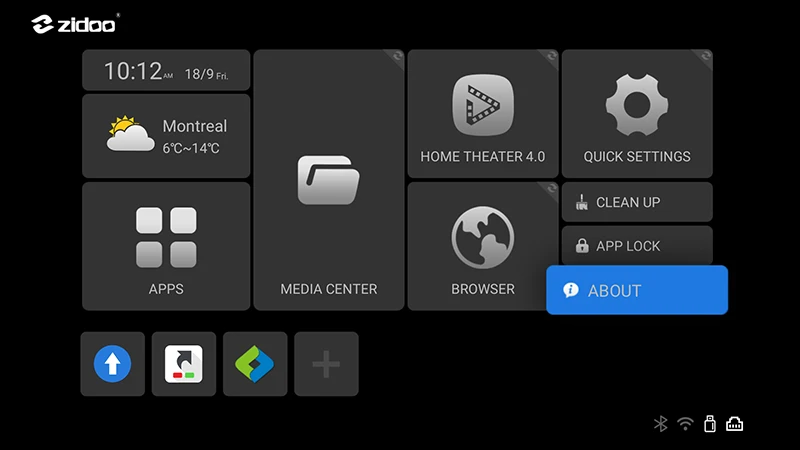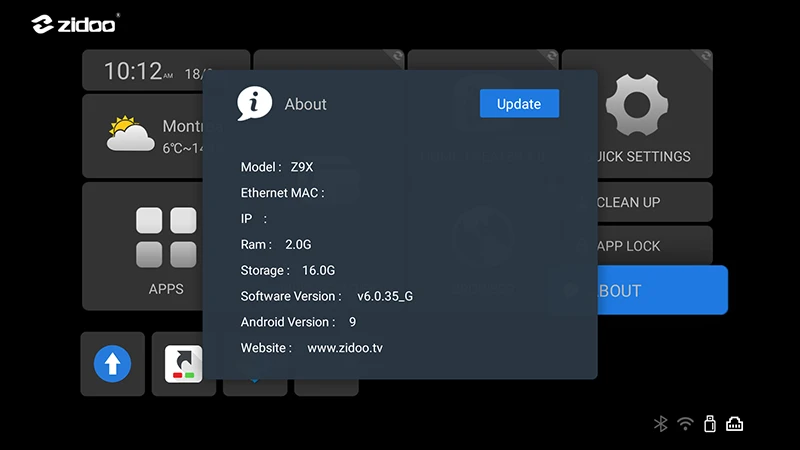 Click on "USB update"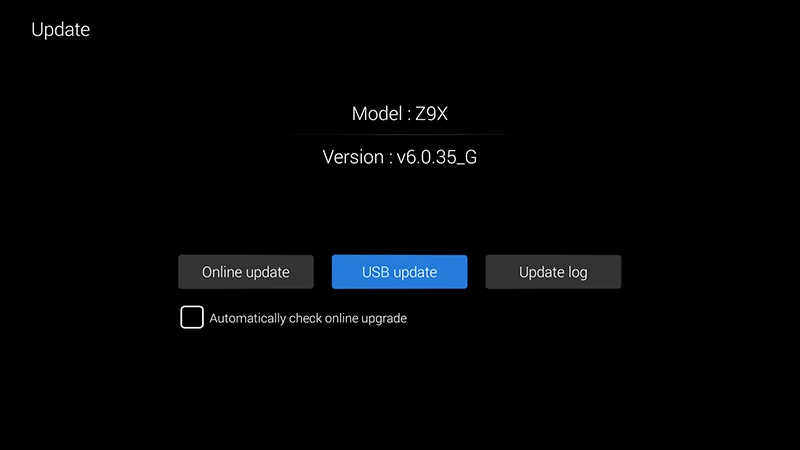 Select your USB key and then the FW compressed file.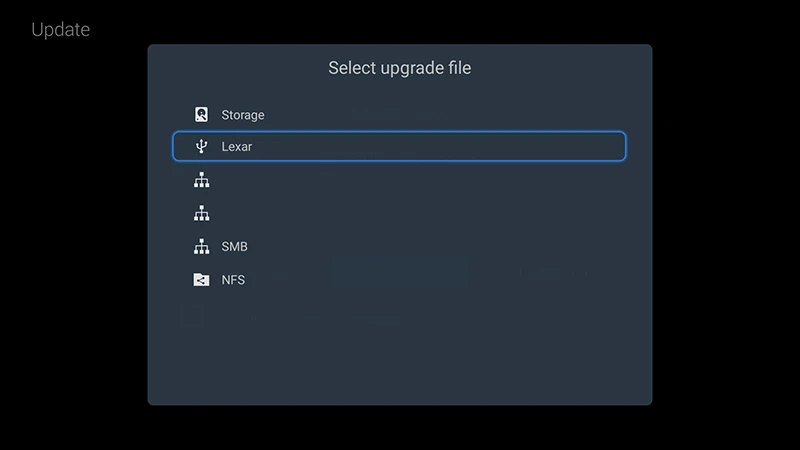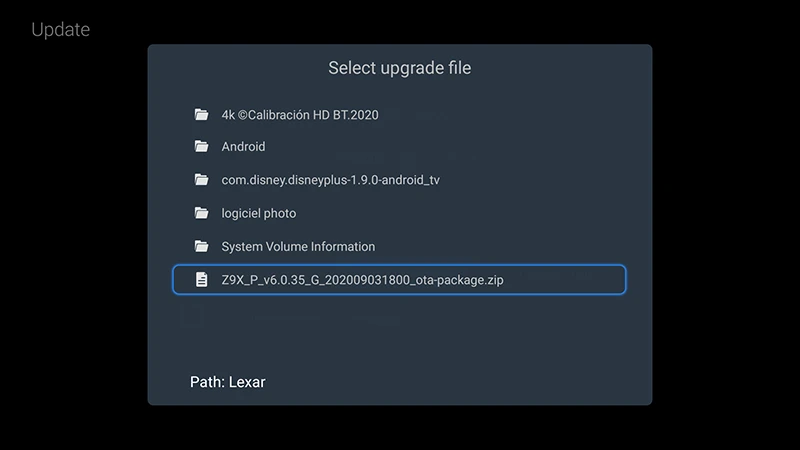 The update procedure begins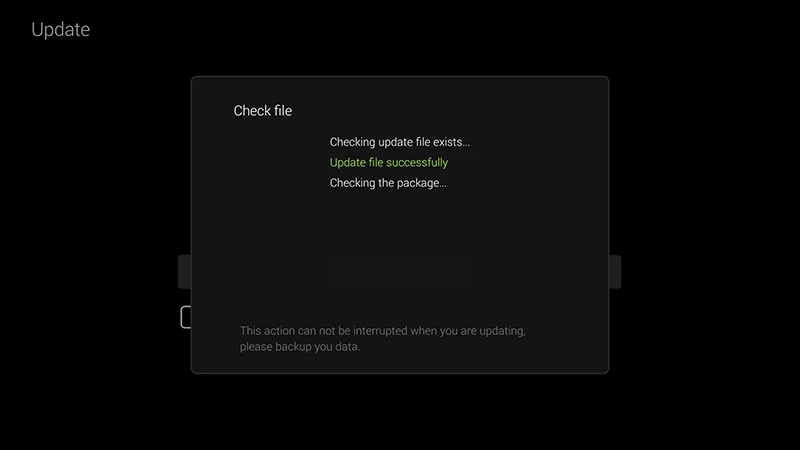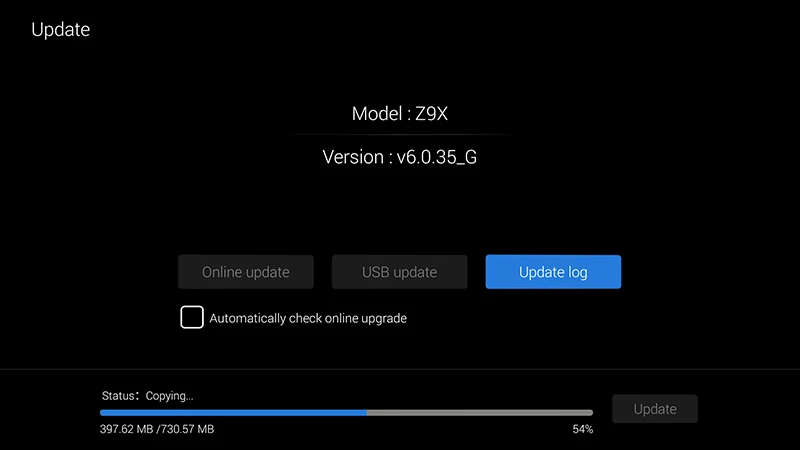 Confirm the update by clicking on "UPDATE"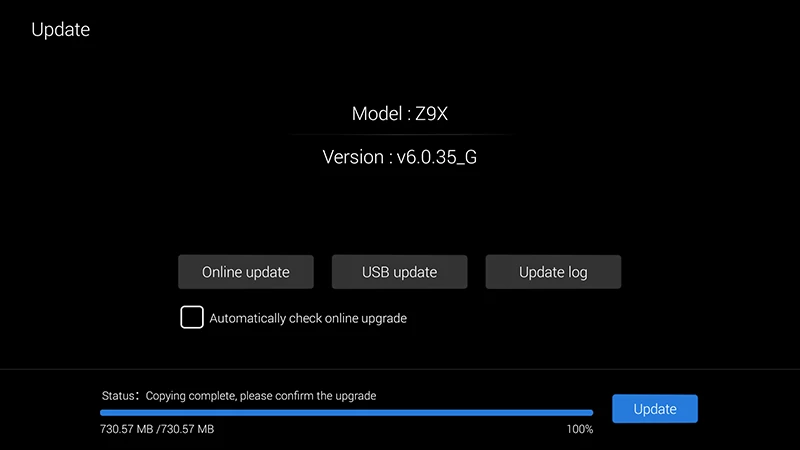 Zidoo finalize the update and restart the device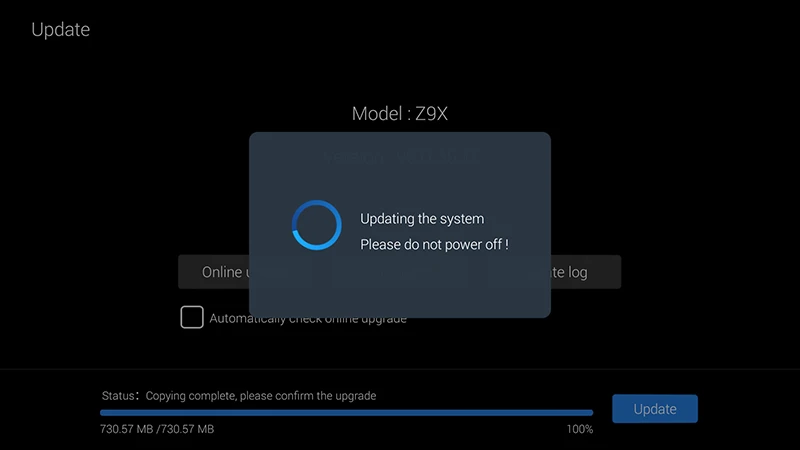 And voila, your box has the last update.
---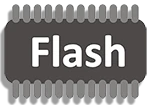 Here is the procedure to make a flashing of your Zidoo

, it is easy and fast.
You need a USB key formatted in FAT32
The .IMG file, you have the download link below
Z9X Recovery Image
Rename the .IMG file to "install.img" and copy it to the usb key which is formatted in FAT32
ATTENTION : About the .IMG file, choose the one for the Z9X and not for the Z9S or X9S, this has already happened to people.
You have a USB key in FAT32 and the file renamed to 'install.img', as well as a paperclip, we can start.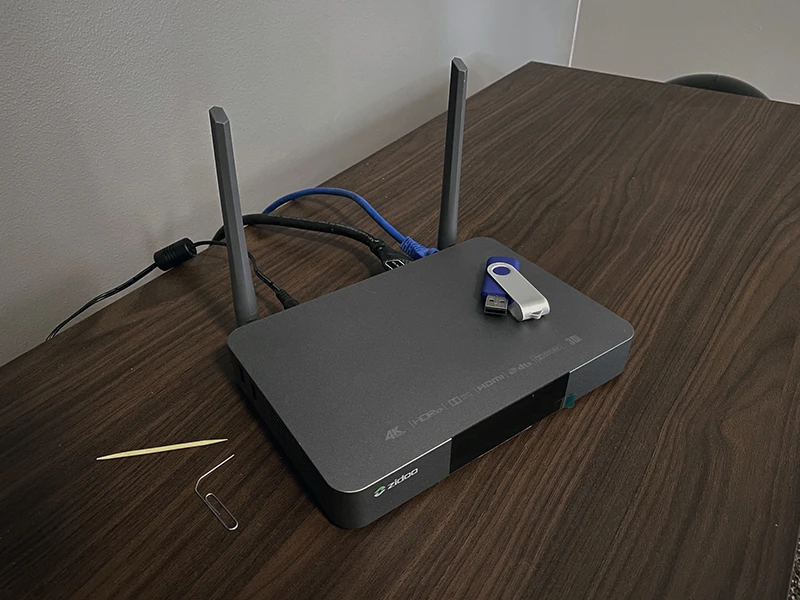 Turn OFF the device with the switch on the back, place the USB stick on one of the USB3 ports and insert a toothpick or paperclip into the reset hole by pressing lightly (you will feel a click), and turn ON the device.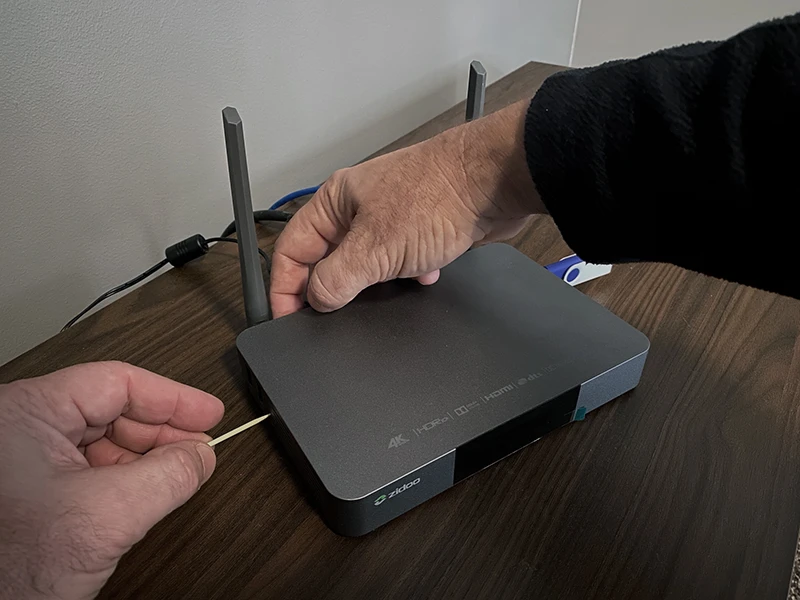 The Zidoo boot, HELLO appears on the VFD and Zidoo on the TV, you can remove the toothpick or the paper clip.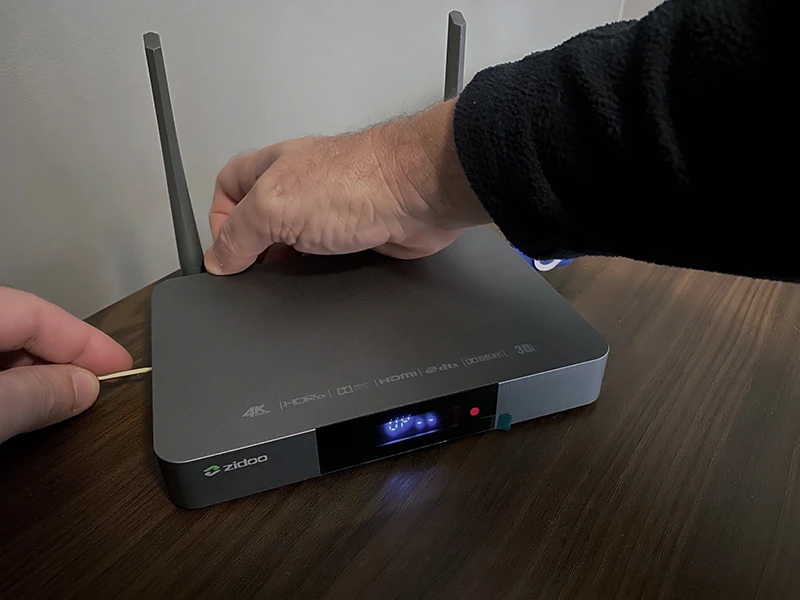 HELLO will stay a few seconds on the VFD and Zidoo on the TV as well.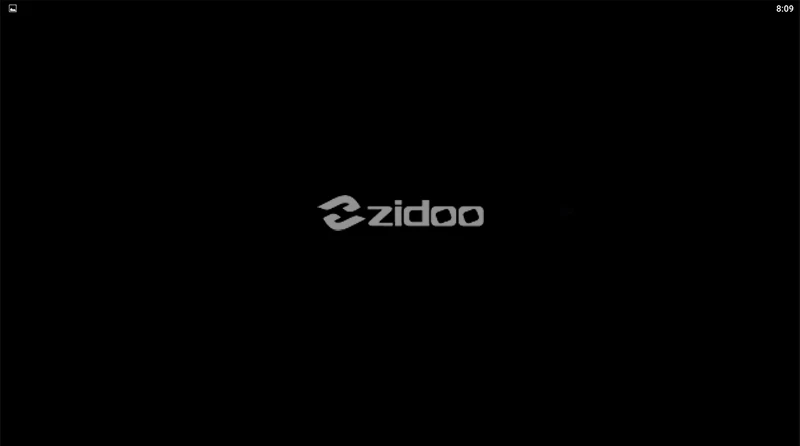 The flashing procedure will begin, the box reboot once finished and you have a brand new box, of course it will be necessary re-configure your box.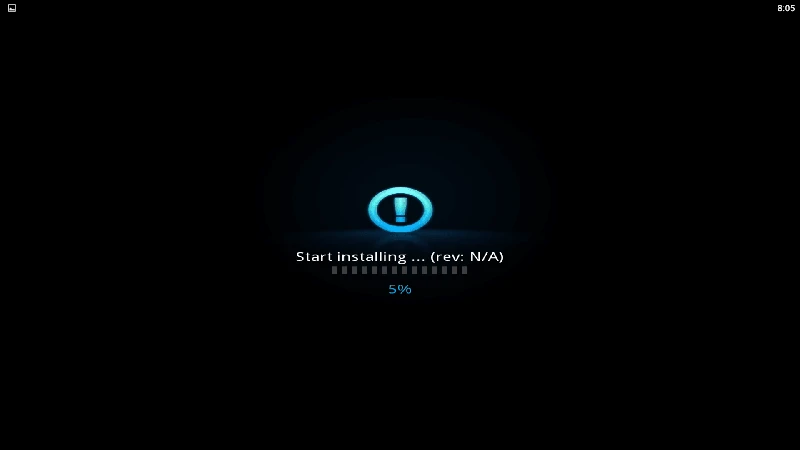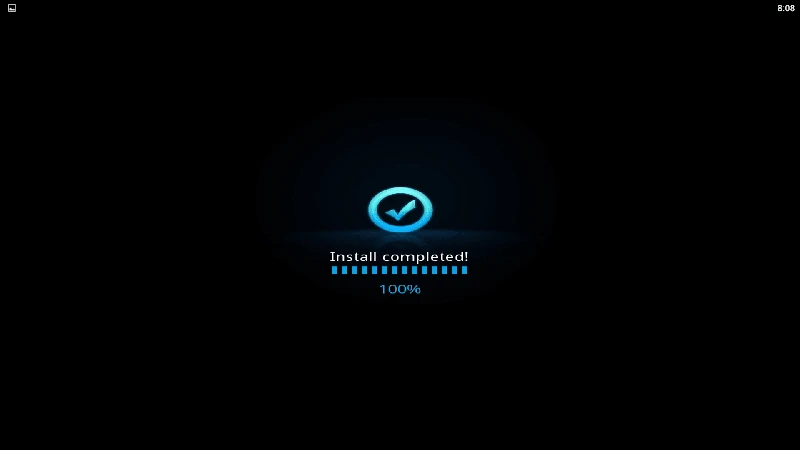 ---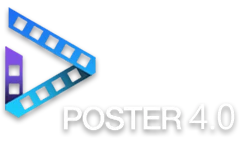 With HomeTheater 4.0 you can choose a vertical or horizontal mode, I created with photoshop a photomontages for this presentation.

Zidoo improves and fixes HomeTheater issues regularly, Zidoo works hard to give us the best experience with their multimedia box even if there are still improvements to be made

Personally I use HT since the beginning and I love it

(I do not have the movies present on the images below)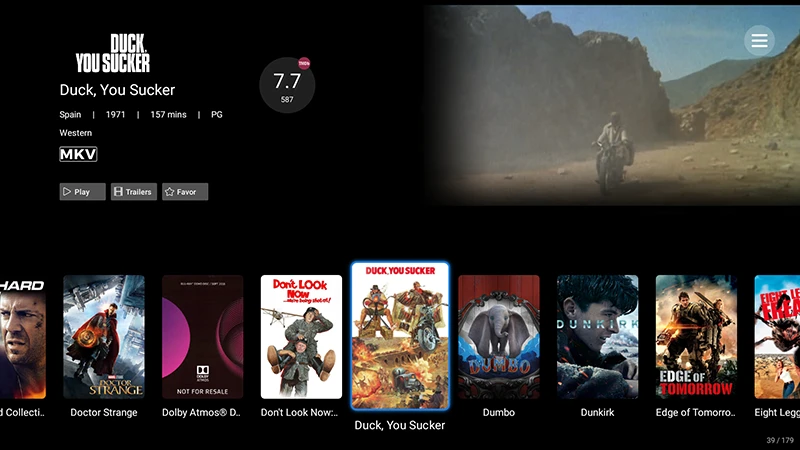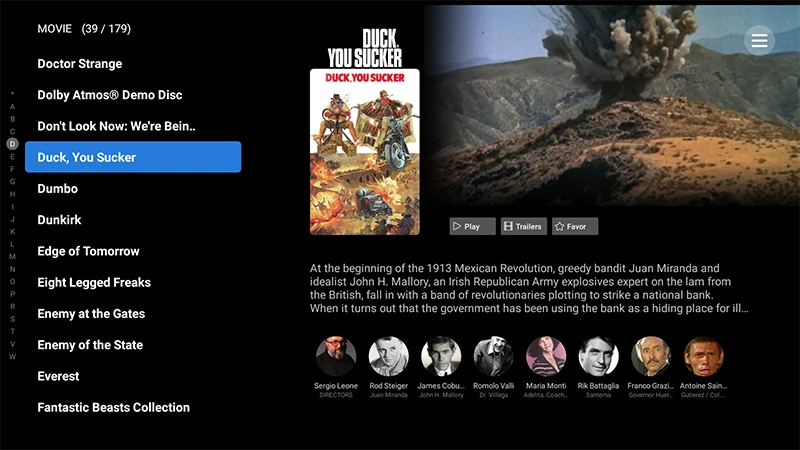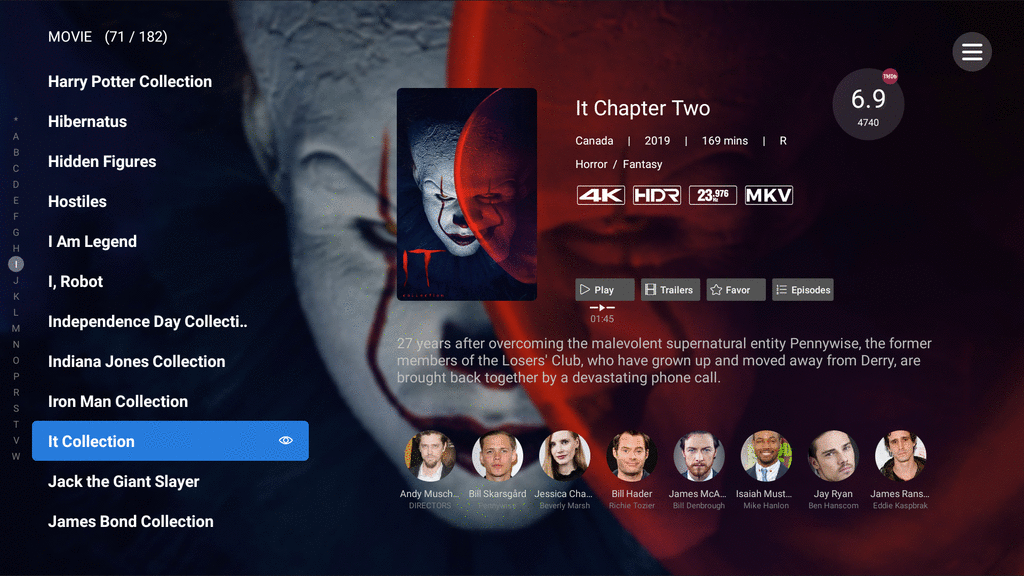 ---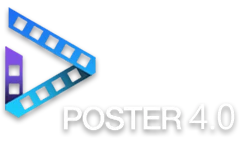 You have your Zidoo

and you start using HT 4.0 Poster Wall, the scraping of your collection is finished if you would like to change the poster of some movies.


First, click on the icon "UNMATCHED"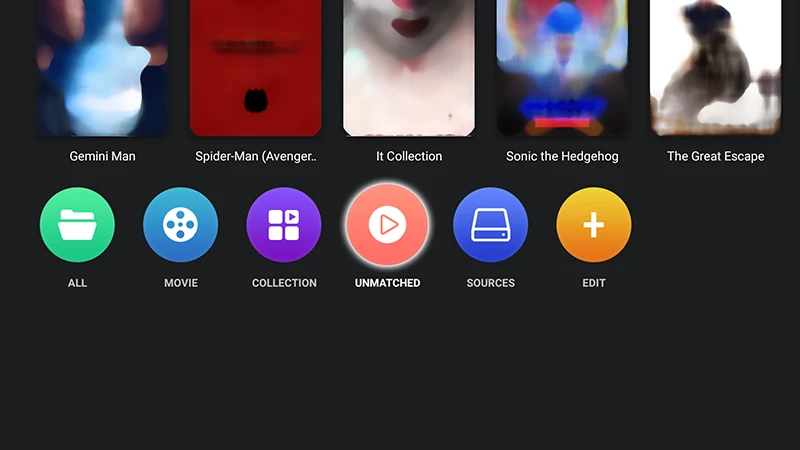 You access the "Unmatched" page where there are all the movies which are not recognized by HT 4.0, select a movie and press the "POP MENU" button.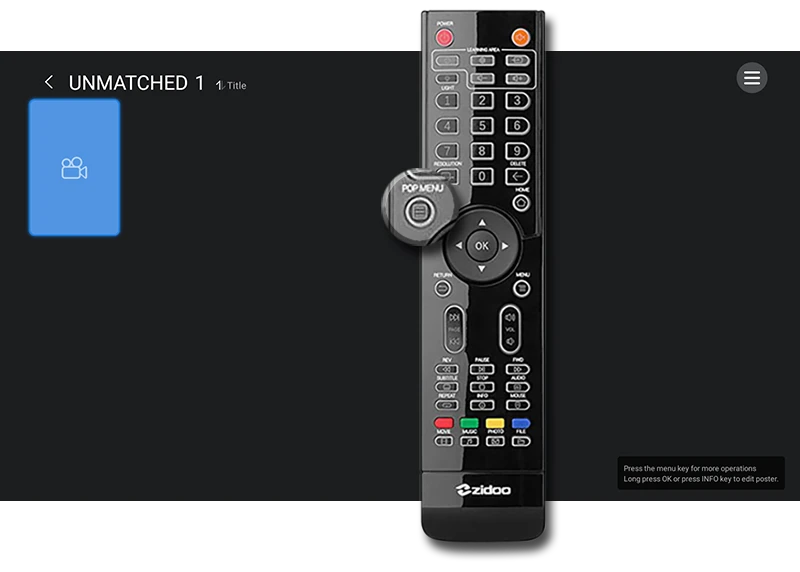 This menu appears, select "Re Match"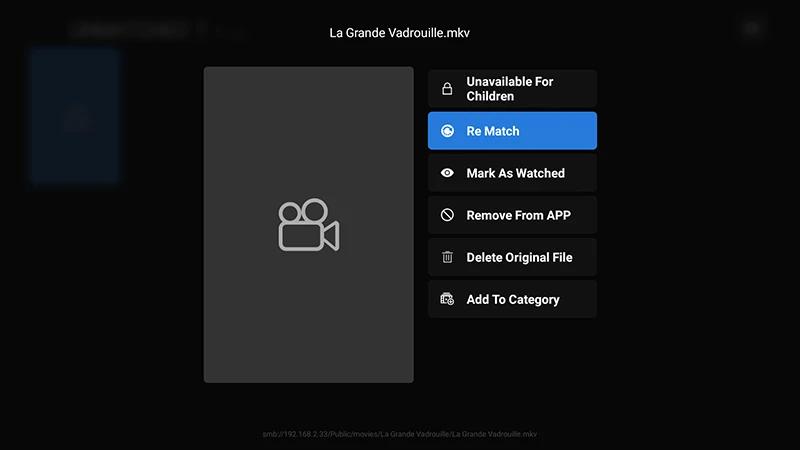 You will use the directional keys and the OK button to move and select the movie and validate your actions, here are some screenshots to follow the procedure.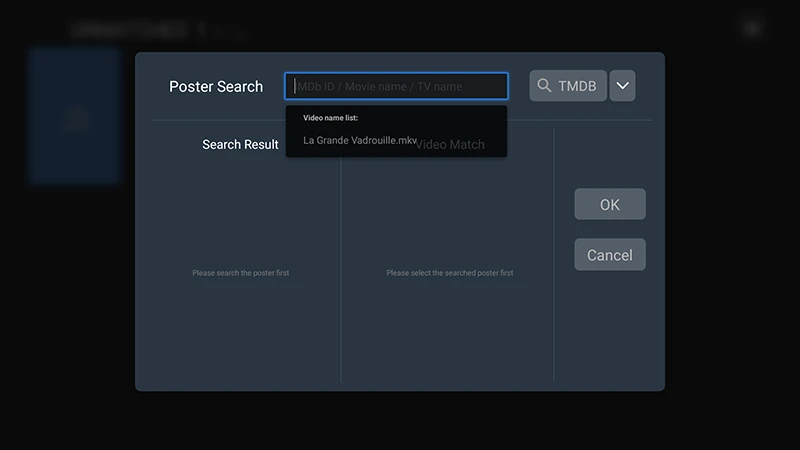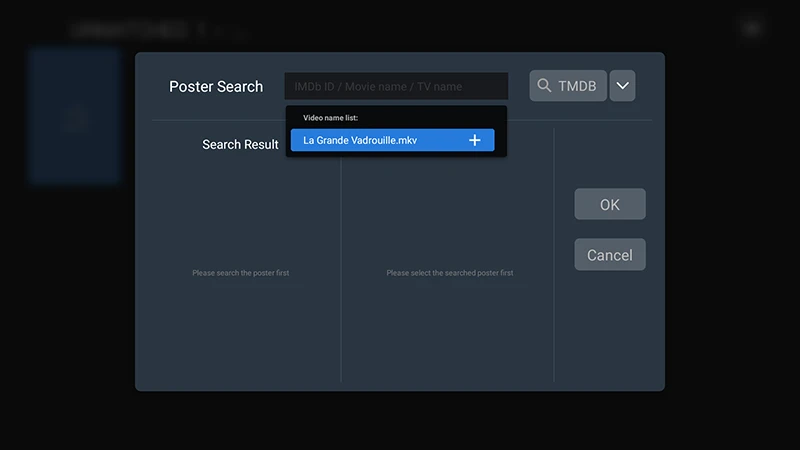 Ht 4.0 will offer you one or more choices of title or keyword in "you might want to search"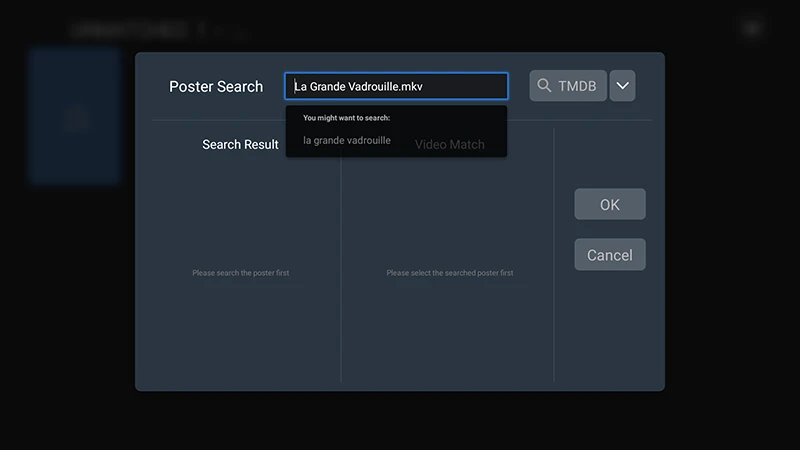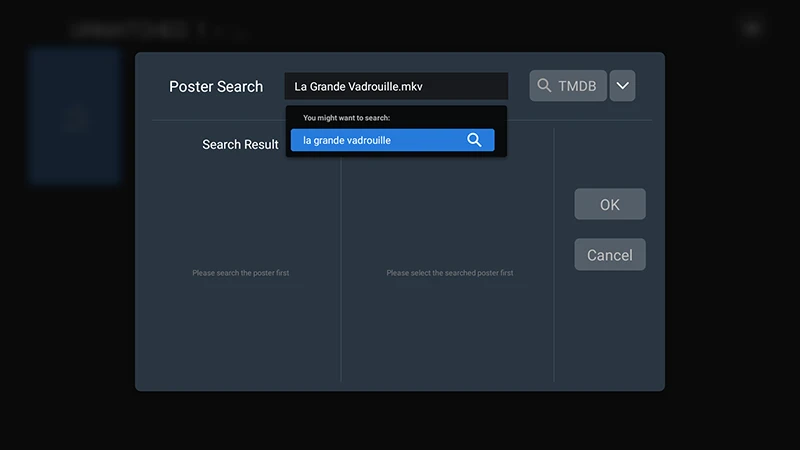 After having validated the proposal of HT 4.0, it will offer you one or more choices on the right of the screen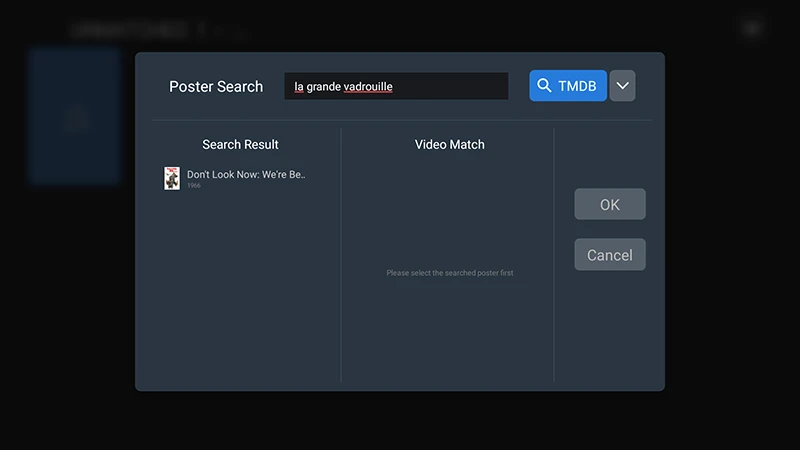 If there are several choices, use the directional keys to choose the movie/poster corresponding to your movie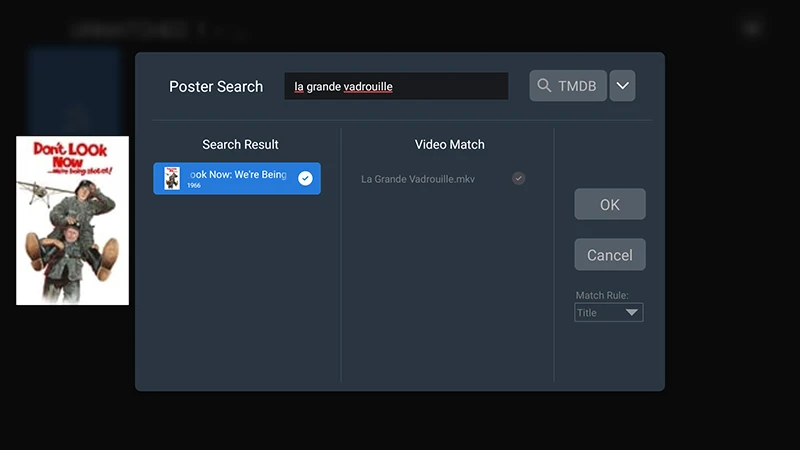 Click OK on the right of the screen, and Ht4.0 will match the informations with your video file.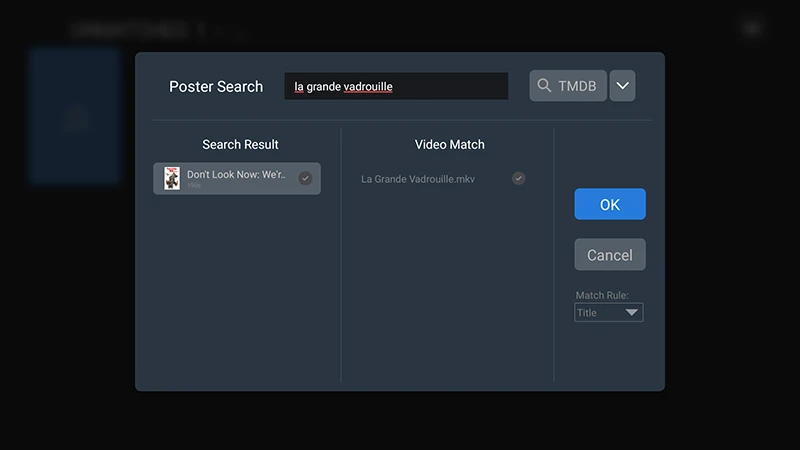 It is done.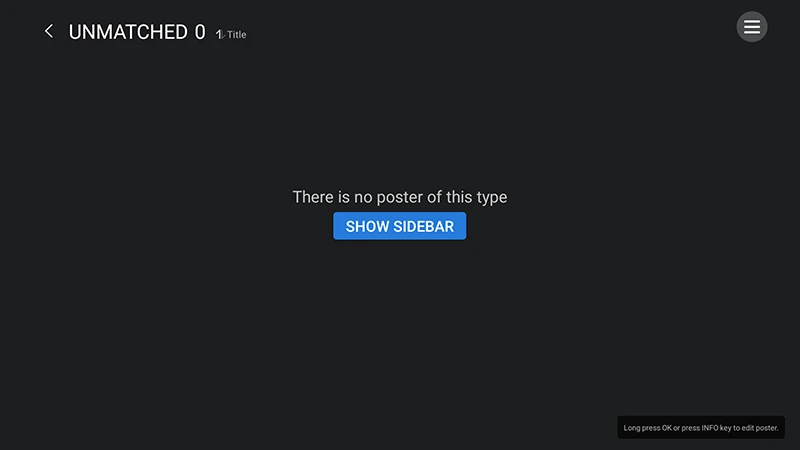 ---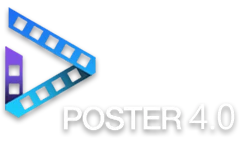 Ht4.0 has customization tools, for example you can change posters if the one imposed by HT 4.0 does not convenient

Choose a movie and press the "POP MENU" key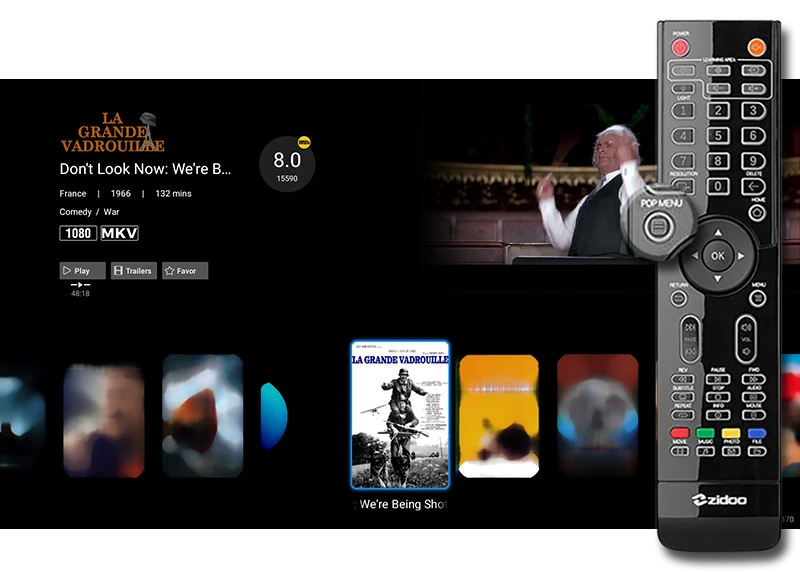 Select "change image"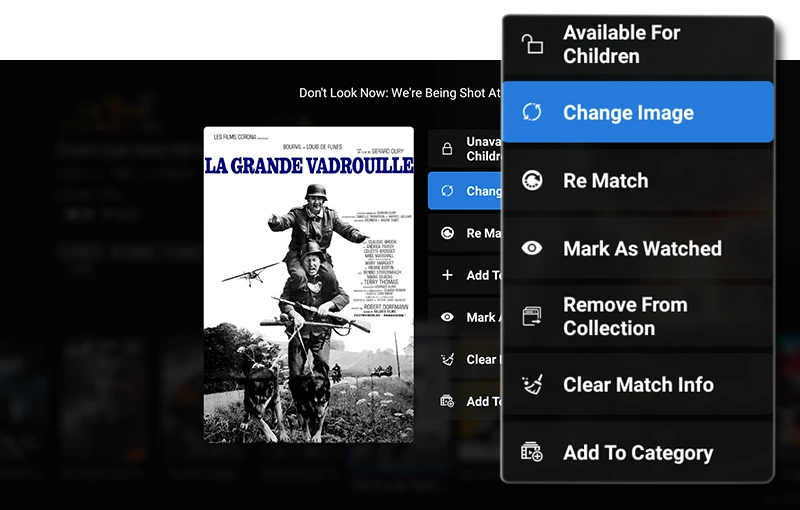 Choose the poster you like as well as the wallpaper click on "OK" key and use the return key​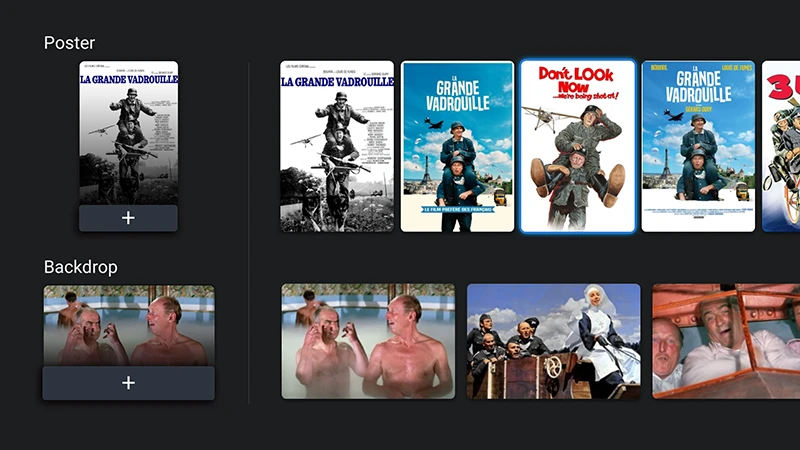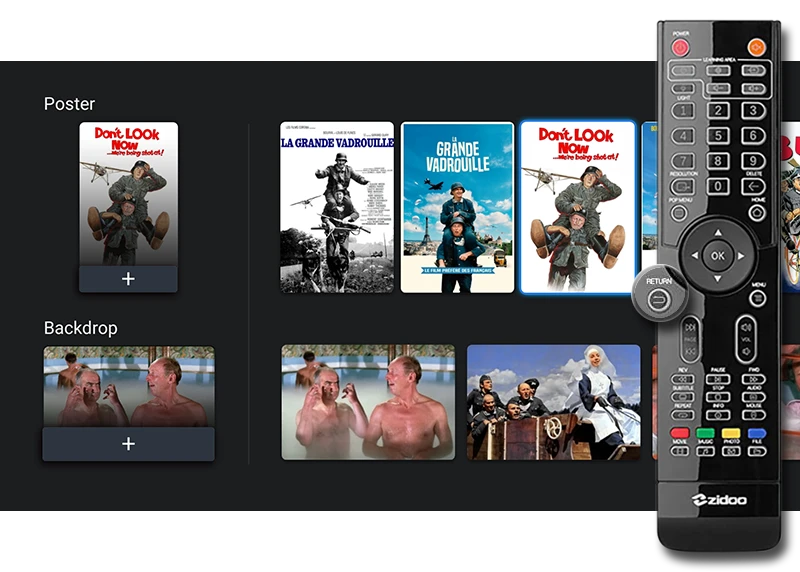 It's that easy!…with HT Posterwall V4.0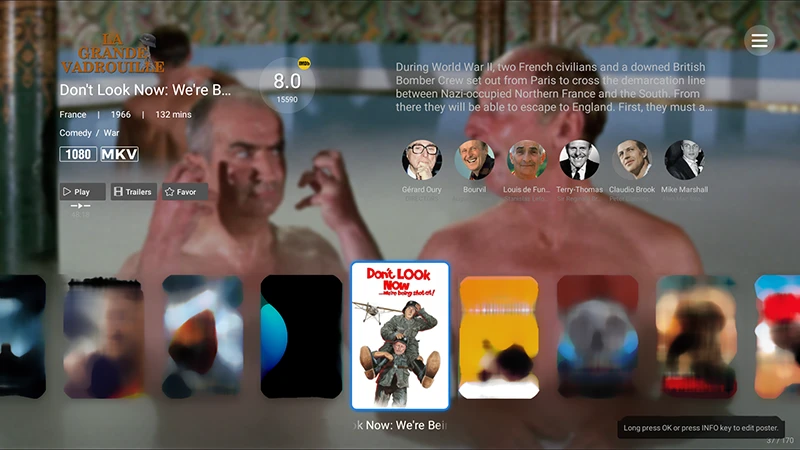 ---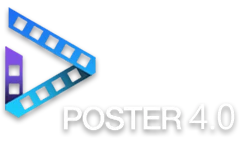 Having to re-scrap your movie collection for some reason can be long and tedious.
Once you are satisfied with the modifications you have made to your movies collection (choice of poster, saga, etc.) you can make a Backup to keep an "image" of it.
In HT 4.0, go to options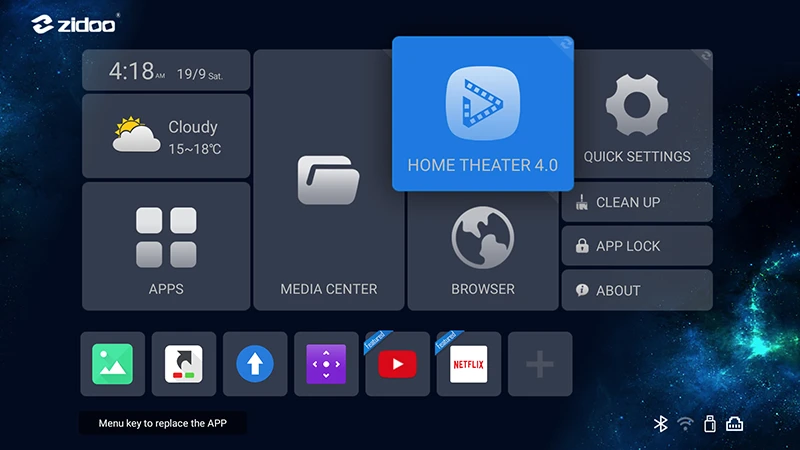 "Library / Backup & Reset" click on "Backup file save directory"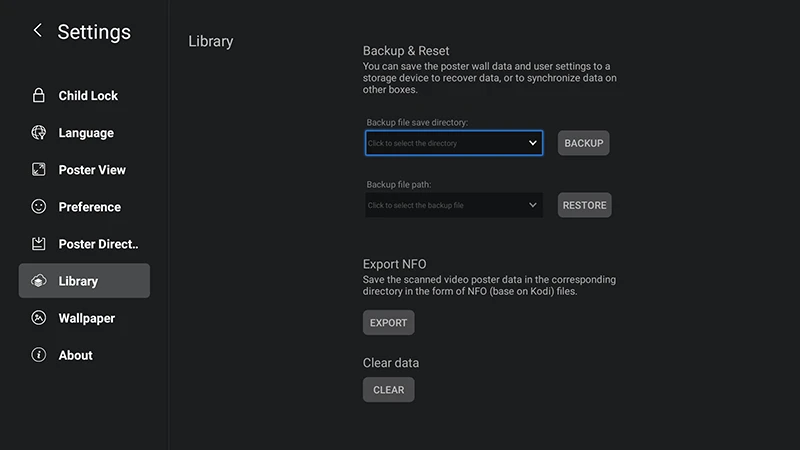 And choose a location for your backup, do not choose a location that is on your Zidoo box, I personally save it on one of my NAS.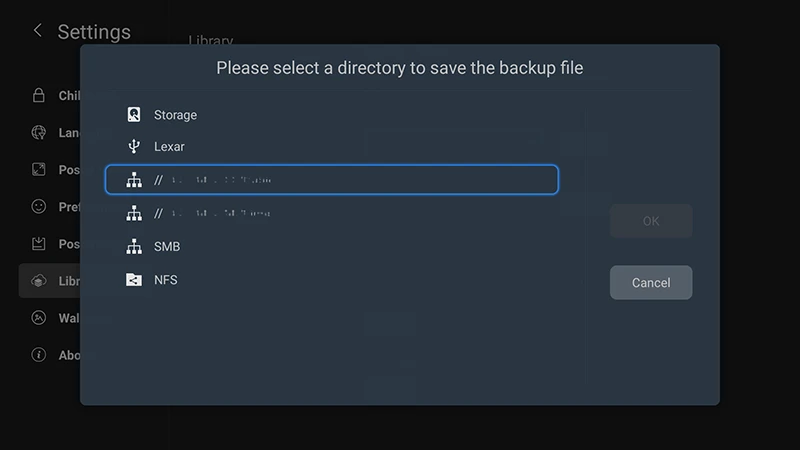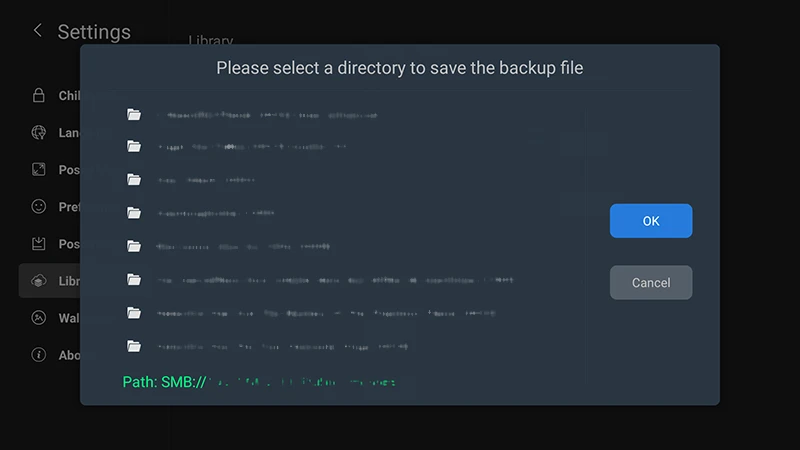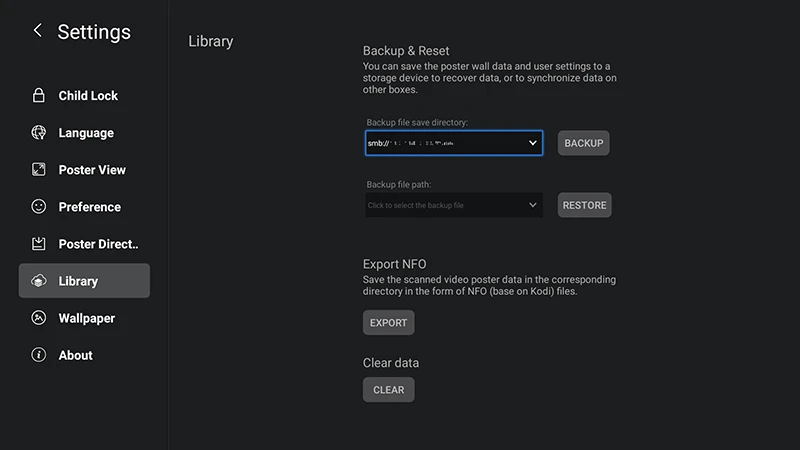 You have chosen the location of the backup, click on Backup and wait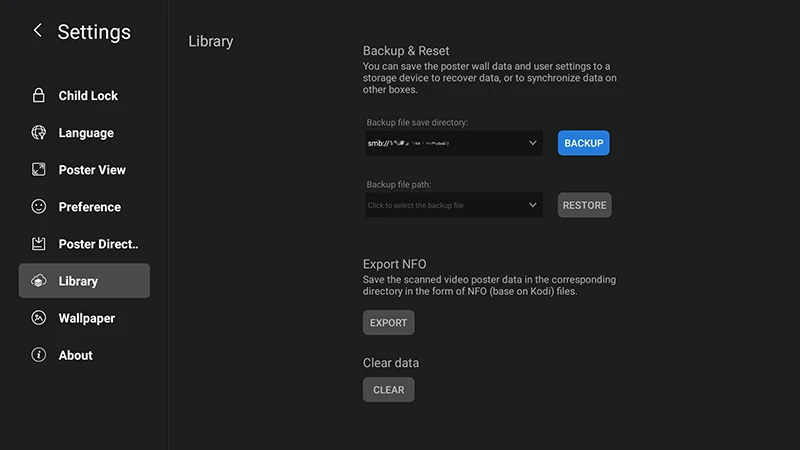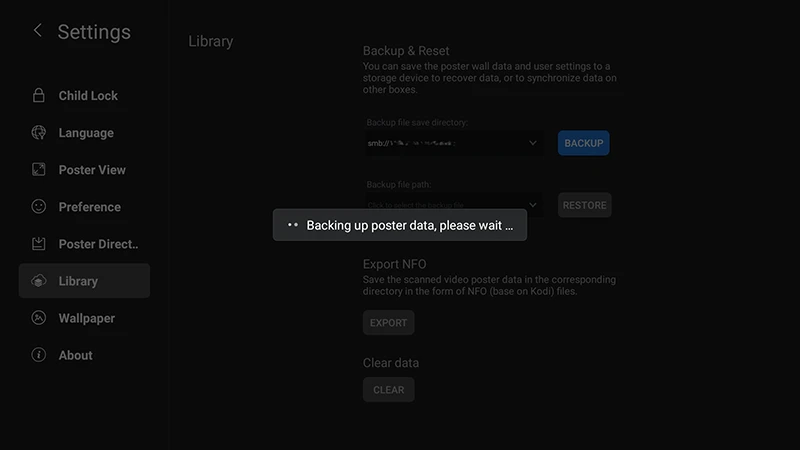 A message informs you that the backup was successful, you can click on "OK".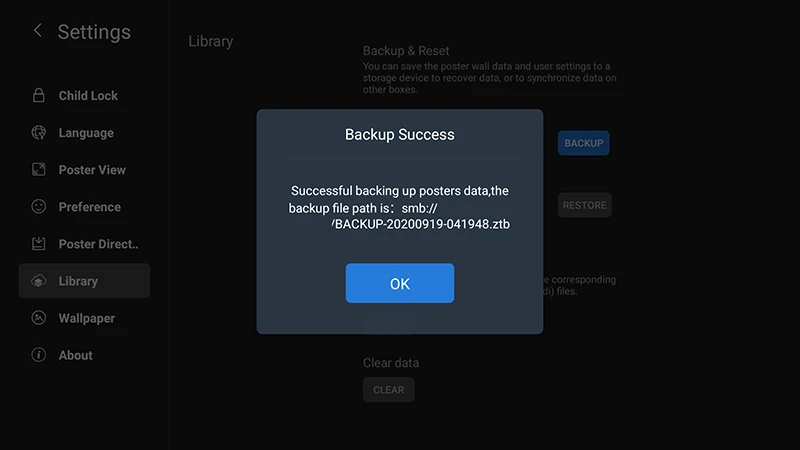 Don't forget to make a new backup when making changes to your collection.
---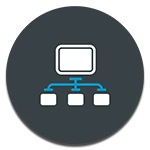 For those who want access to the hard drive connected to their

from their PC
and provided that your network settings in Win10 are correct.

You must install FW 6.0.35 or newer to have the Samba Server option available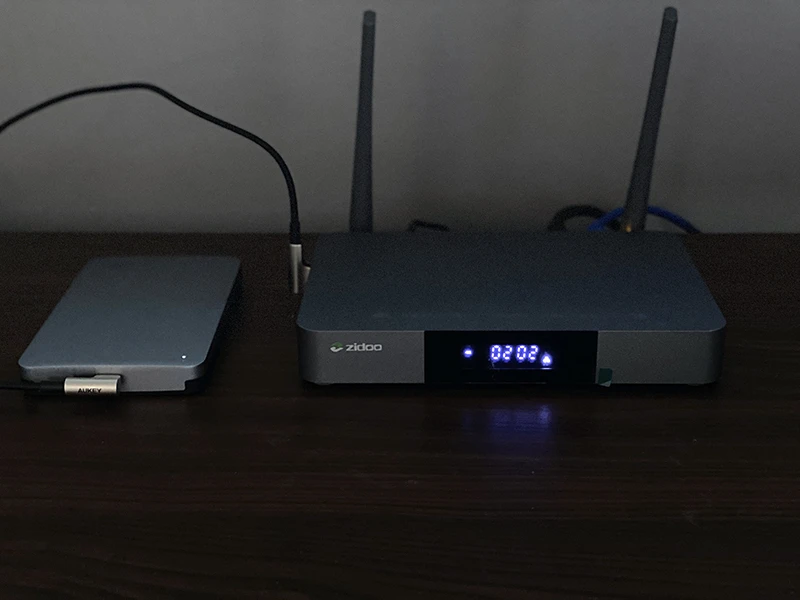 On the Zidoo Network page, activate "Samba Server"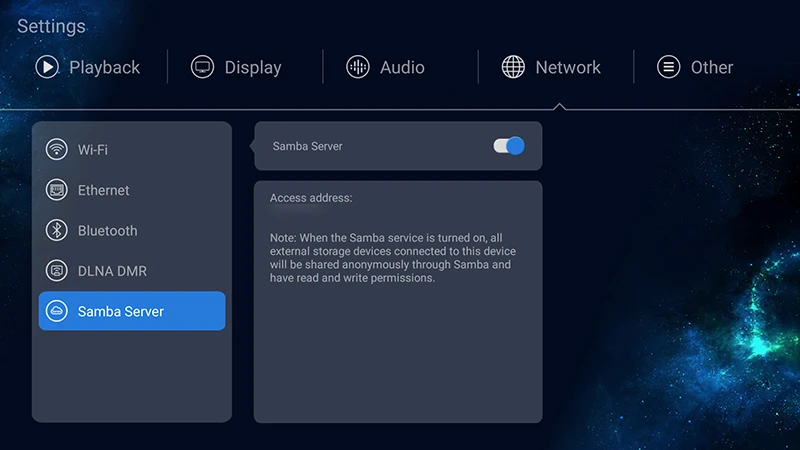 On the WIN 10 Network page
Right click and Refresh
The Zidoo device (ZD_SAMBA) will appear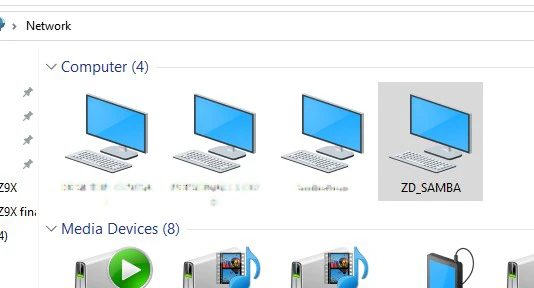 if your Zidoo device does not appear, check in Windows Features that the SMB 1 client is activated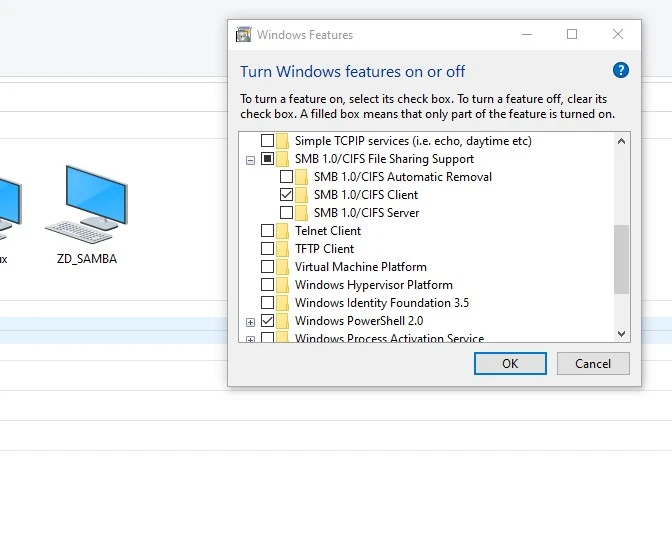 Double click on it, the external HDD (3CD03A34D039F52C) and the Zidoo device (storage) are available

Zidoo device (storage)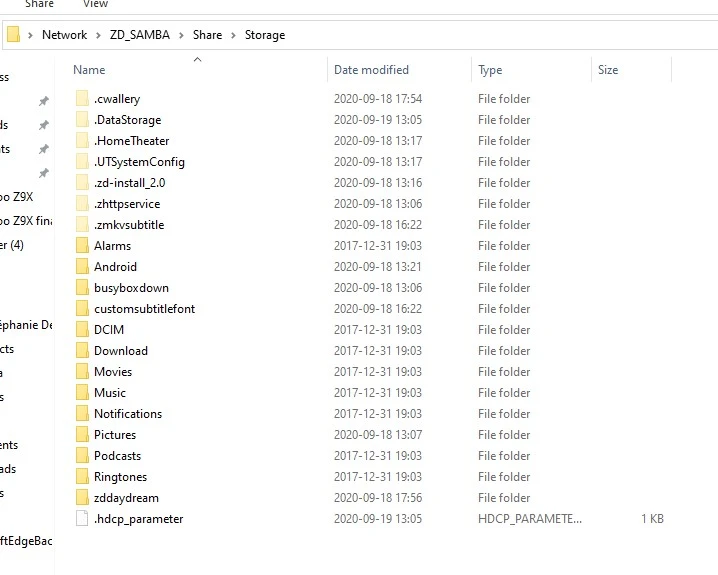 The external HDD (3CD03A34D039F52C), you can edit, add or delete files.