Zidoo released a new beta firmware for their model Zidoo Z10 Pro.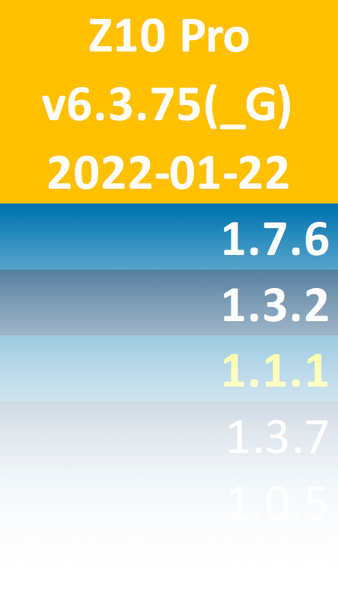 As always, use it at your own risk!
Zidoo Z10 Pro Firmware Download
System
1. Optimized 2.35:1 function for online videos.
2. Optimized no sound problem for some AAC audio file.
3. Added Fit ratio DAR function to local videos.
4. Optimized PGS subtitle brightness setting for local videos.
5. Fixed issue that some Dolby Vision movies flushing green screen when fast-forward.
6. Fixed issue that some Dolby Vision movies did not play smoothly.

Quick Settings
1. Added the function to turn off the indicator light of Ethernet.
2. New function of adding WiFi manually.
3. Added the password display function for the WiFi password input box.
4. Optimized system application data clearing function.
5. Added compression(GUI) setting for screen cover.

Home Theater
1. Fixed the crash problem when fast clicking "reset custom layout" .
2. Fixed the problem that movies marked as watched hasn't been restart from the beginning when playing again.
3. Optimized the focus of the movie details video list.
4. Optimized some language translations.
5. Filtered the German word "saison" for TV series.
6. Fixed the problem that the videos do not play immediately after clicking to play.
7. Removed two words that has been filtered when scanning.
8. Fixed the error when exporting collection picture.
9. Fixed the problem that the soundtrack cannot be turned off in the classic list mode.
10. Fixed the problem that Home Theater scanning crashes when pressing HOME key to exit.
11. Fixed the problem that the English letters on the classification and sorting interface are not displayed completely.
12. Fixed the problem that folder filtering does not take effect when scanning.
13. Add the editing functions for "All" and "Source" widgets in the main interface
14. Added Bored mode.

Music Player
1. Songs autoplay in the playing list when powering on.
2. Optimized CD playback.
3. Optimized the problem of missing album and artist title characters.